Project Overview
The DeKalb County 2050 Unified Plan will combine two of the County's long-range plans into one: a Comprehensive Transportation Plan that identifies priority transportation projects and policy recommendations and a Comprehensive Land Use Plan that establishes the framework for future growth and development. Transportation and land use investments have a direct impact on one another, so the combined plan will create a more consistent, unified strategy. The combined plan will address arts and culture, housing, health and wellness, public safety, sustainability, retail, and annexation.
The recommendations of this planning process will help DeKalb leadership determine which transportation projects to pursue for both local funding opportunities and state and federal dollars. The Plan will also include recommendations within unincorporated DeKalb activity centers for the types of growth and development that may occur based on new market realities and trends.

NEWS
Join the Conversation!
We are hosting a series of five virtual community charrettes (or workshops) focused on different areas of the County. Discussions in each meeting will vary, but may include topics such as locations for new or infill development, housing, transportation improvements, bicycle and pedestrian needs, employment, as well as freight and industrial access. Please participate in the meetings and share your thoughts for the area where you live or work within DeKalb County.
Register for any of the five (5) virtual public meetings by clicking the link(s) below:
Previous Meetings
Thank you to everyone that participated in our first round of public engagement – we appreciate your input! If you missed our meetings but are interested in learning more, you can find a video recording of the May public meeting and the presentation slides on the Resources page.

Virtual Community Workshops
DeKalb 2050 Unified Plan Study Area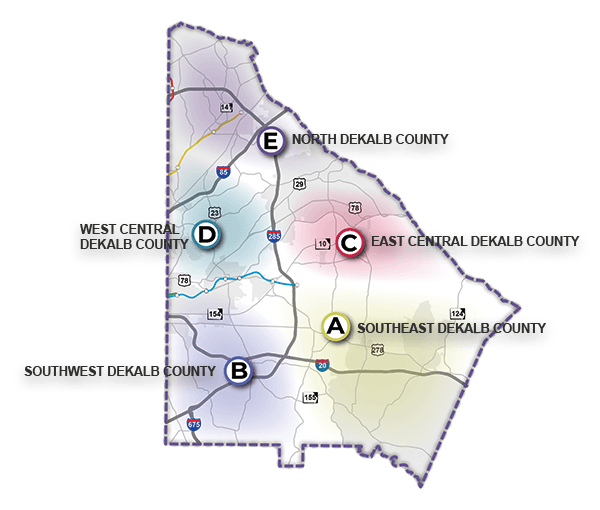 RECEIVE UPDATES